2022 Financial Products of the Year. Both Banka CREDITAS and Max banka scored points
The website Finparáda.cz announced the results of its 12th annual competition "Financial Product of the Year". Banka CREDITAS and Max banka were awarded positions.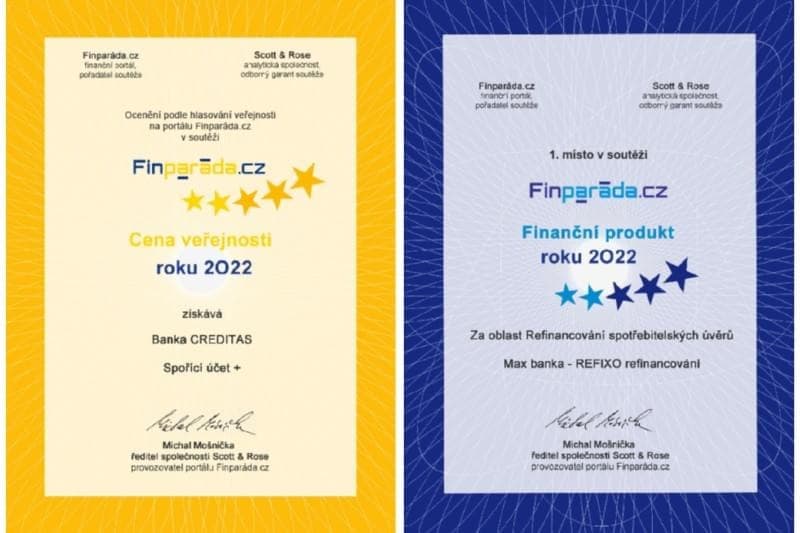 For the third time in five years, Banka CREDITAS's Savings Account+ won the prestigious Public Prize. This is awarded according to the preferences of the website's visitors, who may vote for individual financial products throughout the year. The best product across all categories then wins the Public Prize. Banka CREDITAS's aforementioned product also ranked highly in the category Savings Accounts Up To 300,000 CZK.
In the financial products categories, Max banka took home 3 awards in total. It won first place in the category Product of the Year – Refinancing Consumer Loans, scoring points for its online loan refinancing Refixo. In the category Product of the Year – Savings Account it took second place with its Savings Account. Lastly, it was awarded third place in the category Term Deposits.
The competition is based on the online rankings of the best financial products that are available on the website Finparáda.cz throughout the whole year. The rankings, which are regularly updated, are based on a simple and clear method, and the evaluation emerges from the statistics of data items that are processed over the course of a year. The final evaluation is professional and independent.