Interview with Jindřich Krausz from the Grandhotel Pupp: Busy director
He takes care of the comfort of Hollywood stars and local billionaires. Jindřich Krausz, a young manager, has been the director of the iconic Grandhotel Pupp in Karlovy Vary for three years.
There are interviews that take place in quiet companies' offices and meeting rooms without noise and time pressure. And then there are interviews like the one with 33-year-old Jindřich Krausz, director of the Grandhotel Pupp in Karlovy Vary, which are the exact opposite.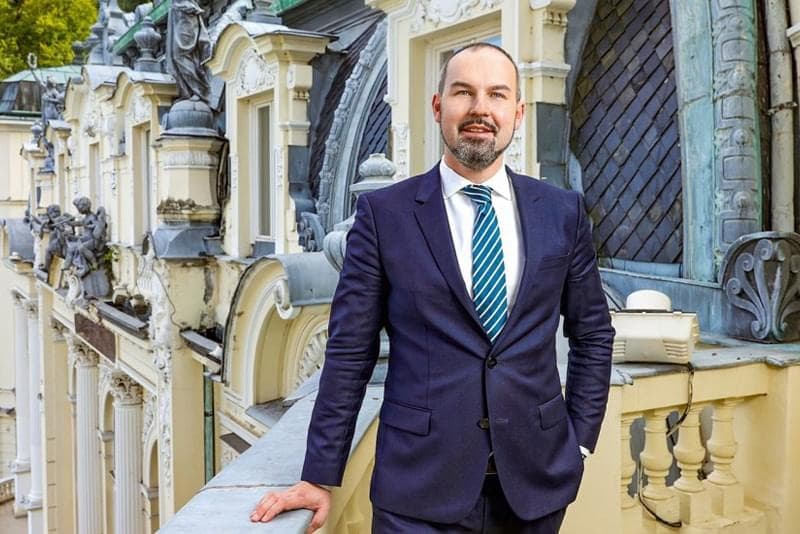 Well, talking to the boss of a famous hotel in the middle of the second day of the equally famous Karlovy Vary International Film Festival is a very specific discipline.
For Krausz, this is his second year in the role of a man who takes care of the accommodation and comfort of the biggest stars and businessmen who gather in the spa town from all over the world during the film festival. Last year, the festival was spoilt by the covid pandemic, but the event has returned with even greater intensity this year. Although on a different date and with a number of anti-epidemic restrictions.
"For us, it is definitely bigger than in 2019. Mainly from the point of view of using the hotel premises for our partners. We have created a number of lounges that companies use for various social events," confides the young manager, who seems calm and focused at first glance, but a slight movement of his eyes indicates that while he is speaking, he also manages to control the surrounding hustle.
Despite his young age, he took over the management of the famous hotel in a confident way three years ago. With great support from the owner, the boss of the Creditas group, Pavel Hubáček, he launched quite a generous reconstruction of the hotel's public areas, digitized the operation, got rid of paperwork, changed marketing and rearranged the pricing policy of local restaurants.
"I explained to my colleagues that it is really not possible for an espresso to cost 130 crowns here, when in all hotels of our category in major European cities it costs less than a hundred crowns after conversion," the director remembers one of the hot topics in the vibrant Malá Dvorana that serves today as a restaurant and lobby bar of the hotel. It is here that Krausz sits down for a coffee and tells a story during his otherwise busy program.
Even in Malá Dvorana, the native from Bohemian Switzerland draws attention to some of the changes his team has made in recent months. Heavy carpets disappeared, design purity and also a stylish glass bar with slices of pure gold were added, and the monumental crystal chandelier from the end of the 19th century was lowered again so that it could be seen upon arrival. He says that the hotel is returning to the style of the 1930s, focusing mainly on traditional Czech brands and creators. During the conversation, he greets designer Aleš Najbrt, who is sitting at the next table and with whom Pupp is also working closely on a new visual identity.
On the other side of the hall, there is a laughter of actors Martha Issová and Václav Neužil, who are discussing the successful Friday projection of the film Zátopek at a large table with their colleagues. The business in this elite society is represented by billionaire Oldřich Šlemr and his son Michal, who are having a friendly conversation with Avast co-owner Pavel Baudiš. After all, they invest together under the R2G group and they are also familiar with hotel business. They own the Prague Intercontinental. After a while, a group led by legendary actor Michael Cain also pass through the hall. No, this really isn't just an ordinary hotel…
What does the film festival mean to you in terms of work?
We have fifty percent more employees. We are used to having hotel guests here. The number of events that take place in one day and often at one time grows by hundreds of percent. Today on Saturday, for example, we are starting seven events across the whole house, events of various extent and size, with different requirements, different catering and so on. Now it's mainly about operational flexibility.
Do you have to control everything?
I have capable colleagues who are in charge of individual events, I only go on inspections.
What does Pupp's director's working day look like at this time?
It's about social meetings a lot. I really don't sleep much during that week. We have a number of partners and guests who come to our hotel all year round. So I meet them. Of course, I also deal with the operability of each day. We start at nine o'clock with a meeting in which we discuss how the previous day turned out and what awaits us in the coming day. Our working day during the festival ends at six o'clock in the morning and the new one actually starts immediately.
What does such a festival meeting look like?
We speak about who arrives, who leaves, what needs to be prepared and what we need to be prepared for. We have about ten departments in the hotel, so we discuss everyone's tasks to see if there is anything else we have to arrange.
How big is the company then? How many people do you employ during the festival?
The standard state is currently 173 people. Another eighty come during the festival. That number varies very flexibly every day. So we're talking about a medium-sized company.
From a hotel field perspective, is your job different when you take care of movie stars and local billionaires?
I have to say that this is not such a big change for me. I've had a number of jobs where I met this clientele. They are often the same names that keep repeating. You have to be empathetic. This is generally true for services. It is a certain hospitality spirit, i.e. a certain ability to perceive the needs of clients and sense their wishes before they explicitly talk about them.
So Johnny Depp won't disconcert you at all?
Johnny Depp is, of course, Johnny Depp, you know. You definitely don't have such guests every day. But in general, we are simply used to this category of guests. For the hotel but also for the city, these names are a great pride and help not only us in development. The role of the festival is invaluable in this regard.
What about the demands of these guests? Do you experience any extreme service requirements?
In this category, clients simply have specific requirements. We can adapt to them. But I don't think we're talking about any extremes, it's more of a standard for this category.
Do you live in Karlovy Vary?
I do now. I used to stay here for a week and go to Prague to my family on weekends. But it was quite impractical, so we recently moved here and I live here permanently. I am not a Prague citizen, I was born in Krásná Lípa in Bohemian Switzerland, I studied in Liberec and then moved to Prague, where I worked.
If you compare your work in a hotel in Prague and in Karlovy Vary, how do you like your work here?
We are in the post-covid period, so I could rather say that in this category there is an advantage of having a hotel in Karlovy Vary compared to having it in Prague. For the last three years, we have been targeting the category of guests from both the Czech Republic and Germany, and that has been paying off a lot. I must say that we are quickly settling the outage from months of the last and this year, when we had to be closed. Our advantage is that we are not dependent on air transport, which still has a slump to eighty percent. Our clients get here by car.
When I disregard the festival, what does this year look like for you from a business point of view?
We opened on June 1. That was a date that made sense in terms of vaccination coverage and the overall epidemic situation. Even if the state had told us we could open in May or mid-April, we wouldn't have done it. We had been monitoring the situation from February and even then we knew that we would not open until June. Such a large hotel cannot decide from week to week. You can open a restaurant from day to day, but selling the hotel's capacity, hiring and training staff, communicating with partners, starting marketing, you need at least three months to do all this.
And how was the hotel occupied during the summer months?
Because we have more buildings, we could play with it a bit. We first opened the Riverside part, which is about half the total capacity of the hotel. And it was sixty percent occupied in June. And from July 1, we gradually opened other hotel services and the second part of Parkside, and we ended with an occupancy of over sixty percent of the capacity of the entire hotel. And in August, by the beginning of the festival, it was already about eighty percent. So I consider the summer to be a success as far as possible.
From the hotel's point of view, if you were to compare the interest in the film festival with 2019, what would it look like?
For us, it is definitely bigger. Mainly from the point of view of using the hotel premises for our partners. We have created a number of lounges that companies use for various social events. Overall, I feel that this year is even livelier than the last one from the summer of 2019.
You came to the hotel three years ago and made a number of changes quite quickly. From interior and exterior modifications through changes in operations and pricing policy to a new logo and so on. Apparently you did not have too much respect for this traditional hotel. Where does a person at your age get confidence and know-how?
I definitely had respect. But every business, no matter how old or traditional, has some non-transferable characteristics and conditions. And you have to fit a clear and significant concept into them. We simply said that we have one of the oldest hotel brands in Europe. In addition, a Czech brand. We also have a Czech owner, so there was no need to invent anything extra. Let's run a traditional Czech hotel of the highest level. That was the case.
So what can we imagine in practice?
It is important to keep the concept filter and not deviate. This happens to many hotels because they want everything to be beautiful and world-class and then they mix different styles. My job is to keep the direction. That is why we have exclusively Czech premium brands here, so that our guests can get acquainted with them. This is obvious in our services, gastronomy or in our wellness, where therapies and rituals refer to local products. We use thermal spring salts, Franziska herbal baths, which is the name of the wife of the founder of the hotel. All this is interconnected in all our departments. Wherever possible, we try to show our guests the best and most beautiful of the Czech tradition.
What are these brands?
The basis is the four most famous brands from Karlovy Vary. They are Moser, Mattoni, Becherovka and Thun. But for us, the region is the entire Czech Republic, so you can find a Petrof piano here, we have Manufaktura cosmetics in our rooms, a clock by Dalibor Farný, Zdeněk Lhotský made parts of the interior for our hotel, photos by Ton Stan hang here and I could list them for a long time. And we don't forget the confectionery tradition either. The founder of the hotel and the bearer of the name Pupp was originally a Czech confectioner. This history is not so well known, but we are older than the Sacher Hotel in Vienna in this respect. So we reintroduced the local recipe for Pupp cake, which we offer here as our specialty. Sacher torte is prohibited here. Which is more of a joke.
You have also started a number of building modifications. What were they about?
In fact, they concerned all the common areas on the lower floor of the hotel. That is, the parts that every visitor sees when arriving at the hotel. The customer must immediately feel the grandiose comfort. This is what they expect from a hotel of this name. We drew from photos from the 1930s that we found. There you could see exactly how the layout of the hotel was made up. Unfortunately, since the 1970s, this has logically been abandoned and the hotel has begun to pursue quite different goals. So in 2018 and 2019, we had to go back to the 1930s. The basis is for the guest to start relaxing immediately upon entering the hotel. By what he/she sees, feels…
How much did the renovations cost and what other investments await you?
The renovations were hard, but for many contractors they were reference projects, so it wasn't that bad. Thanks to the Creditas group, we were able to do it even during the covid time. The total costs were, say, higher tens of millions of crowns.
What awaits you next? Or have you finished with the renovations?
No, I'd rather say we have just started. We have, say, the first floor, but the whole hotel has some 36,000 square metres, that's about 8,000 square meters per floor. There is still plenty of space. Rooms, other connections of buildings, reconstruction of other parts will follow. We are talking about long-term planning.
Did the owner, Pavel Hubáček, promise you other funds? For him, as a banker, the return on investment will probably be important…
Of course. We have set up ongoing financing, but of course the hotel must be able to earn for each of its investments. So I'm sure we're all waiting for what the post-covid market will allow.
How did actually Pavel Hubáček, the owner of the Creditas group, find you? Did you know each other personally?
Not at all. I first had a referral phone from one of the intermediaries to see if I would be interested in running the Pupp Hotel. This was followed by negotiations directly with the owner. But we hadn't known each other until then.
What is the cooperation with an investor of this type like? For example compared to a multinational hotel operator?
It's definitely much better, but harder at the same time. You have a much greater degree of responsibility. While in international hotel chains you hide behind various approval processes and precisely defined organizational structures, here it is about direct communication with the owner. Thanks to this, we can react more quickly to the market situation and implement adjustments and development projects flexibly. The results are then seen quite quickly.
Do you have any special assignments from the owner?
First of all, the hotel must be profitable. We also have a number of indicators that measure our success.
I also read that you changed the prices in the restaurants. Did you really become cheaper from this point of view?
I wouldn't say it like this. It depends on the context. Within Karlovy Vary, probably yes, but within the category of this type of hotels in our country and abroad, we are now probably at a comparable level. Rather, it was a matter of looking at the individual prices and the competition in our category. If sometimes we're not too beyond. And I must say that in some respects it was a lot beyond the borders. We simply switched to a different pricing model.
Does this mean that it used to be unnaturally expensive here?
Let's say that the prices here were not properly balanced from our point of view. We used such a simple espresso index for that. We showed on it that it is really not possible for an espresso to cost 130 crowns here, when in all European cities it costs less than 100 crowns after conversion. That was a topic, for example.
Do you expect Russian tourists to return to Karlovy Vary, on whom the local economy has stood for many years?
First of all, we do not say who our guest is. Because our guest is the one who comes here. We have some markets that we target, and these are probably a little different than the ones Karlovy Vary targeted in the past. For example in terms of diversification, we are looking in a little different direction. To Germany, but also to the Czech Republic. As for the Russian clientele, it will probably take a little longer for them to return here in a bigger number. However, it must be said that in Pupp, unlike other hotels, they were never represented in the majority.
Where did you learn the most and from which of your jobs do you draw the most for work here in the Pupp Hotel?
It was a mixture of different experiences, but it was always about working with the most demanding clientele. Whether it was the Engage conference in Prague, the Laver Cup gala in the Municipal House in Prague, or the management of the Ypsilon Golf Resort near Liberec. Everywhere I met exactly the group of people who come here as well. Understanding them is the basis of my work. You have to learn basically everything, to understand the work of every single person. But it is important to build a team. Because such a big hotel, it's definitely not about one person's work.
How do you find people to the hotel in Karlovy Vary? Do they come here from Prague, for example?
I was one swallow, others followed. In addition, Pupp is known to everyone in the industry. It was crucial that I managed to build a really strong team. I have eight new colleagues in the management and each of them has improved their department dramatically. I had to dismiss almost everyone from the previous management, as it was very difficult to tune them to the new philosophy. Which is understandable. When you've been doing something in the same way for twenty years, it's hard to find a sincere effort to start doing it differently.
The hotel's Becher's Bar is an almost mythical and cult bar, bringing together businessmen and movie stars during the festival. How did you perceive it so that you would not violate its spirit during the changes?
It's about whether there was anything to violate. In my view, the quality of Becher lagged far behind its reputation. That's why we tried to tune the place so that it was not just about mythology, as you say, but mainly about first-class services. We brought top bartenders, some of the best in the Czech Republic, who also collect awards at world competitions. We also follow the concept of Czechness, so we have our typical drinks here. And our signature is the Vesper cocktail, known from the Casino Royale Bond movie.
I've seen that your autumn is full of events. Aren't you afraid that some restrictions or even lockdowns will come again?
Over the last year, we have learned to improvise, to respond effectively from day to day. So I believe we are ready for everything. But I believe that there will be no lockdown. Because even in events we return to the original tradition. Pupp was not created as a hotel, but as a cultural house and we want to strengthen this tradition of ours. In September we are having wine festivities here and a concert with David Mareček, the director of the Czech Philharmonic, in October there is going to be a performance of Vivaldianno, November is marked by burlesque and in December we are going to remember, through a piano concert in collaboration with Mrs. Petrofová, our another famous guest of the past, Ludwig van Beethoven.