Ivana Pícková: Investing can mainly increase the value of your savings today
The Czech National Bank (CNB) recently raised the base (repo) rate by exceptional 0.75%. Economists expected an increase of 0.5 percent. This step surprised many people. We talked about this and other things with Ivana Pícková, a member of the Board of Directors of CREDITAS Bank and the head of the retail banking department.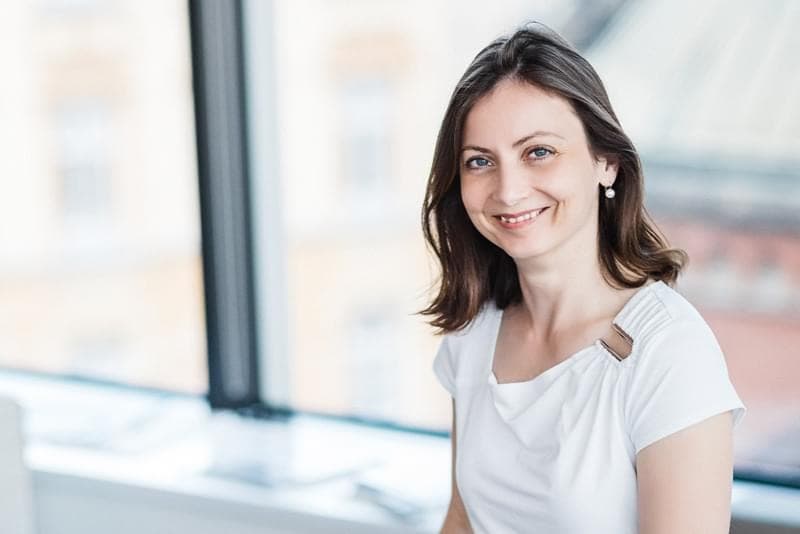 What will an increase in the base (repo) rate of 0.75% mean in practice?
Repo is the rate at which the CNB always borrows securities from commercial banks for 14 days. It is basically taken as a risk-free return. The discount rate (now 0.5%) is the rate at which banks can make excess deposits with the CNB. If these rates rise, then all other rates in the banking market rise in response. This is good for depositors, less good for those who will want to borrow.
Have you already responded to the CNB's steps?
Yes, we raised Savings Account + rates almost immediately. So far, they were 0.5% for part of the deposit up to 350 thousand, the part above had an interest rate of 0.2%. The rates are now 1.3% and 0.7%. So we went up by more than 0.75%. We are also preparing an increase in rates for term deposits.
And what about mortgages?
There, rates will also go up. It's logical - the more you pay for sources the higher the rate for which you can lend. But it is still true that we want to be among the most attractive offers on the market. It is now possible to get a mortgage with a five-year fixation at a rate of 2.79%.
Inflation has been discussed a lot lately. At first, the topic was mainly real estate, where the increase is quick, but then the prices of many other things, such as food and energy, joined. Overall, inflation is now almost 5%. High inflation rather favours debtors over savers, what do you think?
To put it simply, this could be said in a situation where their income also grows at least by inflation. Otherwise, debtors have to repay what they have, and the expenses increase at the same time. For most people, this is not the case at all. They need to economize in a balanced and predictable way. So whether they have loans or bigger savings, high inflation is not good news for them. A large proportion of middle-aged people have both - a loan, typically for real estate and savings.
So how should we behave wisely at the moment?
If you mean in the credit area, then the rates are still quite attractive. The other thing is whether the person considers the current real estate prices to be acceptable. Or, on the contrary, they think they will go down, or at least their offer will improve. It's not up to me to recommend anything to people in this regard. Real estate experts should be contacted with this question. However, it must be said that even analysts are not in complete agreement. But the fact is that most of them are more likely to expect prices to rise.
But then there are financial assets, savings.
It is clear that even if savings account rates go up, they still do not cover inflation. But that is not their purpose anyway. The purpose of a savings account is to have a quickly available financial reserve, which is increasing the value a bit. When you have monthly family expenses of about 40,000, it is generally recommended to have at least some money in reserve to cover expenses for 3-6 months. It means somewhere between 120 and 240 thousand.
But what if we don't want our savings to be consumed by inflation?
In this case, you need to think rather about investing. If you find the real estate market interesting, for example, you can participate in its performance by investing in a real estate fund. Many of them also offer the opportunity to invest relatively small amounts on a regular basis. We have this lower limit of 500 crowns a month.
This is probably also the way for those who do not have the funds to buy an investment apartment.
Yes, it is a way. I would like to add that when someone buys an apartment or a house for housing, they do not deal so much with fluctuations in real estate prices and rents. But if they buy it as an investment, then it already has an effect, and quite large. However, the impact on one particular property can be quite different depending on its location and parameters. In this respect, diversification makes a lot of sense - the fund can hold a lot of real estate, of various types, from rental apartments to production halls to offices.
I will return to the family budget and recommended reserve. It is quite high for many households.
I understand. It also plays a role in family management that with a lot of non-cash payments, one can lose awareness. And if you add that most people have 3 bank accounts, it's not very easy to put things in order.
Do you have a recipe what to do with it?
For example, integrate all your accounts and payments in one place. In CREDITAS internet banking, the client can have accounts interconnected with twenty banks. The application can cleverly sort expenses in categories, create graphs and reports, and monitor family finances. You can make an overall budget or even plans for a specific category, such as spending in restaurants. The application will also notify you when you exceed your limit in a month. Then it is much easier to orient yourself in your finances. Then it is good to set aside savings in smaller amounts, regular investment is appropriate for that.
Ivana Pícková (*1974) is a member of the Board of Directors of CREDITAS Bank and the head of the retail banking department at the same time. She has been working at CREDITAS since 2018, having previously held the position of Director of Project and Product Management. She has almost thirty years of experience in banking, she worked in managerial and leading positions in leading banks. She participated in the methodology and management of strategic projects. For example, she was the head of the Back office division in eBanka. She was the Head of Operations Transformation Cluster at Raiffeisenbank, head of the BPM team at Česká pojišťovna and Project Manager at Česká spořitelna.