Lifeliqe from the CREDITAS Group. Virtual training, real working
Training of new skills no longer takes place at specialised locations. Czech-American startup Lifeliqe from the CREDITAS Group brings a new form of retraining tools.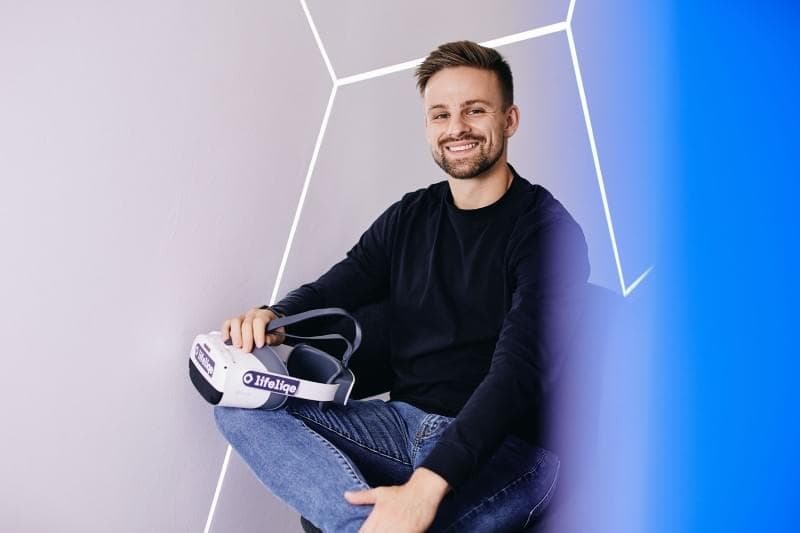 Virtual reality is more and more present in the public space and in many of its sectors. Its use seems unlimited, and the Czech-American startup Lifeliqe knows it. While augmented reality works with the real world, adding to it elements such as sound or images through computer magic, virtual reality creates entirely new worlds. The aforementioned startup works with both of them.
The story of Lifeliqe began in 2011, when the sister project Corinth was founded. Until now, it has focused on interactive 3D tools that can be used in education. This formed the basis for Lifeliqe, founded four years later on the West Coast of the USA in San Francisco, but with a distinct Czech footprint. It took its experience with 3D models in education one step further into augmented and virtual reality.
American dream
Lifeliqe is also celebrating its biggest successes in the USA. The startup is part of the Sandi project, which aims to mitigate the effects of the coronavirus pandemic on the labour market in the state of Nevada. For Nevada, it creates simulations in virtual reality in which people can acquire key skills for the performance of certain professions.
Matouš Tlapák, director of the Czech branch of Lifeliqe, describes the advantages of virtual reality compared to, for example, theoretical preparation: "Our virtual reality is a very accurate simulation of a real situation or workplace. Lifeliqe simulations focus in greater detail not only on conceptual knowledge that we know from textbooks, for example, but also develop manual actions that are used for practice and in practice save time, energy and, as a result, money."
Specifically, these are simulations of patient care during dialysis or programs that train medical assistants. However, the creation of such simulations is a long process. The development of content with intensive virtual experiences ranges in the order of hundreds of thousands of US dollars. In addition, everything takes several months, when the programs must be consulted with experts, explains Tlapák. More than 15 people are usually involved in the development of individual simulations.
Lifeliqe plans to continue to focus on the US market for a number of reasons. "The local market is specific and we try to fully perceive it. America is one of the most interesting workforce development markets. For the US, the retraining of citizens as a result of the digital revolution is a priority," explains Tlapák the main one. The startup's long-term goal is to become the main platform for retraining.
New opportunities
Being where it is needed turns out to be the main motivation of the Czech-American startup. Technologically and commercially, it can also develop thanks to the background of the CREDITAS Group and, in essence, the pandemic, which has significantly affected the American labour market. To make retraining more accessible, Nevada libraries are also participating.
They not only offer short-term programs to improve skills, but their equipment also includes hundreds of devices that make virtual reality accessible. This is the key to people being able to complete some retraining courses remotely and not having to commute, for example.
A transformation of the labor market is most likely in store for the whole of Europe, based on plans to reduce carbon emissions and other efforts towards a more sustainable economy. These changes will also affect the Czech Republic, which is already facing a labour shortage. According to Tlapák, this is also why the Czech economy is facing the pressures of Industry 4.0, its new type focused mainly on automation and digitisation.
"Our virtual simulations and virtual workplace tours reflect these changes in the labour market. We believe that our virtual reality workplace tours help motivate people to upskill or reskill – to increase or change their qualifications. In the Czech market, they can help employers recruit and train a new workforce," explains Tlapák what virtual reality can be used for. However, the startup Lifeliqe is still looking for partners in the country for such projects.
As for the sustainability efforts themselves, the startup Lifeliqe believes they will bring new opportunities. They perceive sustainability on two levels. "First, as the sustainability of skills – i.e. their transferability across different disciplines. We are interested in professions that are in demand and have great potential for the future labour market," Tlapák explains the first level.
And then he describes the other one: "When we include a new certification in the portfolio, we ask if it is sustainable in terms of a sustainable career and environmental impact. Some states meet us halfway in terms of business. For example, California supports retraining in so-called green jobs." As an example of supporting such green jobs, Tlapák lists solar panel technicians, to whom California retraining centres will offer training, rather than to repairmen of fossil-fuel engines.
Potential without limits
The market covering everything around virtual and augmented reality is growing every year. According to data from the European Commission, in 2021 the size of the market in the European Union alone was more than seven billion euros. And it is expected to grow in the coming years.
Virtual and augmented reality technologies continue to improve, especially in software. In Europe, these technologies serve, for example, the gaming industry or, increasingly, retail.
Lifeliqe's approach is therefore original in its own way. Programs are currently being prepared in its workshop, thanks to which people will acquire the skills of some technical occupations. Also due to the challenges that await the Czech environment, virtual and augmented reality programs can play an important role in the labour market in the future in gaining new work experience.
The products of the Czech-American startup Lifeliqe are not intended for the Czech environment yet, but it is possible that it will be so soon. "We are currently looking for ways to free up resources for the translation and optimisation of our simulations for the Czech market. We are ready to discuss with possible partners. The potential is huge," summarises Tlapák.
This text was published in the EURO weekly and on the tydenikeuro.cz.