Interview with Jindřich Krausz, director of the Grandhotel Pupp in Karlovy Vary
For several decades, Karlovy Vary has survived mainly on the money of tourists from Russia. In recent years, however, the importance of Russian tourists in the town has gradually declined, until it fell sharply this year in connection with the war in Ukraine. Yet, it may be an opportunity for a greater transformation of the town. "The new situation may force hotels and other tourism operators to think about whether they are really doing everything to bring a completely different clientele here than what came here historically," says Jindřich Krausz, the general manager of the Grandhotel Pupp from the CREDITAS group, in an interview for E15.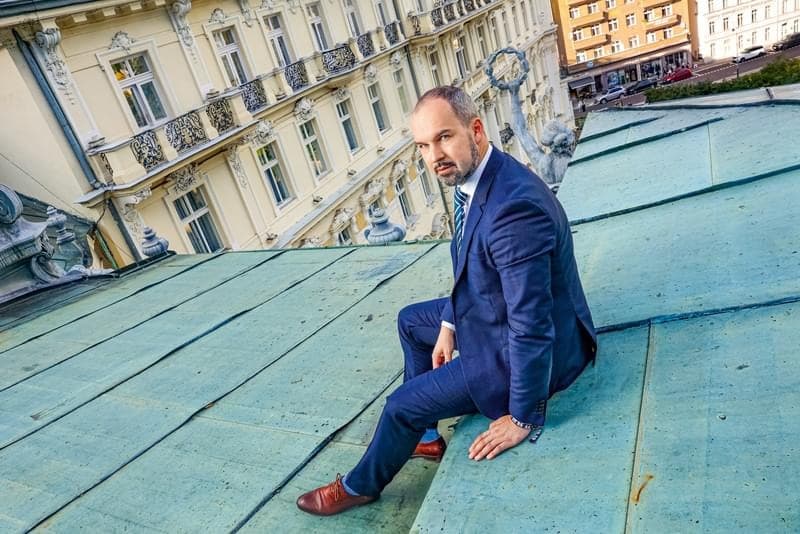 The season is on, in a few days the Grandhotel Pupp will be filled with guests of the film festival. Has anything changed for you since the COVID pandemic subsided and since the war in Ukraine began?
By managing two years of COVID and experiencing what it is like to have zero occupancy one day and the next day quite different situation, I think our team is ready. The continuity is mainly about the team and the fact that we were able to keep it. It would not be possible without it. Even though we have a beautiful hotel with an incredible history, the service is always about people. Thanks to that, I think that the preparations for both the season, which paradoxically started for us once COVID ended, and the festival are going smoothly.
Will this year's Vary be specific in anything?
I can't speak for the festival. I don't even know which star will come this year and how it will all be thought out. We always find out at the last minute. I can say for us that, of course, we are also trying to do something for film festival visitors, and this year there will be a new Pupp-Up Lounge zone in front of Pupp, which will offer a very unique selection of wines and gastronomic treats presented by guys from Gao Den and Taro from Prague. I hope that the visitors of the festival will use it a lot. Of course, it will offer a range of services, allowing guests to spend more time in front of Pupp.
You have been in Vary for four years. Before that you were in Prague. Vary is a smaller town and you have experience from slightly different types of business. Did those four years change you in any way?
One must always take in and read about the business. Each one has some non-transferable conditions and the product must be defined based on them. These conditions also affect how can one further work with the business and how all processes will be set up. This means that we have not only been doing maintenance activities here for four years, but that we are also striving to build within the development plan. So I wouldn't say anything has changed dramatically, but everything we've built on before is helping us now.
When I look at the state of Karlovy Vary hotels and at the same time at what the region says, the impact of the outflow of Russian clients on the town is significant. At the same time, you claim that you have diverted from this trend before. But how do you see a town that used to have 80 percent of its guests from Russia now?
I'm not afraid that tourism won't survive in the town.
Why do you think so when others say business is falling?
Time will tell everything and we will be able to evaluate it only with distance. But I think that this change will be to the advantage of Karlovy Vary and that it will be a kind of renaissance of the town. The new situation may force hotels and other tourism operators to think about whether they are really doing everything they can to bring a completely different clientele here than it came here historically. The invisible hand of the market will help the change because the pressure will probably be great now. The transformation has been talked about in Vary for a long time, now it is finally time to act.
There are many stereotypes about Vary also due to the Russian clientele. People used to not look at the town positively. What exactly should happen to the town to attract new clients?
I'm not local and thanks to that I see the situation a bit from above. And I feel the same way: associations with Vary are not always positive. People do not have the town connected with positive emotions, and when Czech clients come here, they come only to the festivals. During the four years I have been here, similar ideas have been associated also with the Pupp Hotel, which we are actively trying to change. We started to communicate differently, to set a different pricing policy, we are also changing the foreign market policy. It paid off and we see the results. For example, we managed to return quickly in terms of occupancy after the COVID. We don't have to be pessimistic and have an empty hotel without guests. Thank God that's not happening.
And what about the town itself?
The change that should occur at the level of Karlovy Vary is primarily in communication. There must be one that will help create positive associations. Vary is no longer limited to spas, springs and a nice walk on the colonnade. The whole surroundings are beautiful. It's great for hiking and cycling. Few people also associate Karlovy Vary with skiing. From our hotel, guests can be on the ski slope in 25 minutes. Now in the winter, for example, in cooperation with ski resorts, we offered our guests skiing, to which we provided additional service.
In the summer season, we mainly offer our guests the possibility of renting e-bikes so that they can go to all the beautiful views around the hotel. Golf is also popular. In the vicinity of the hotel there are two courses, Olšova vrata and Cihelny, which are within ten minutes.
So there are a lot of activities in an easily accessible surroundings. In the hotel, especially in our Ceremonial Hall, we hold cultural events of various genres every month and their attendance is constantly growing. All these activities need to be properly communicated and reach people. However, it means long-term work. It does not come about overnight.
Still speaking about the Vary landscape, the centre and the tourism associated with it – hoteliers and gastronomy people say that the bankruptcy will eventually set in. You don't think so. Do you believe that everyone will be able to quickly transform and replace the loss in revenue they face?
I'm not saying that everyone will survive. This never happens. Rather, I think that something new will emerge to replace what did not work, and that it will be the natural evolutionary change that occurs regularly.
Has anyone gone bankrupt yet? I wonder if you feel that this transformation has already started in some way.
Only a few months have passed since the latest COVID wave, so we will only see. I think that by the end of the year things will somehow get clearer. And yes, some colleagues and hoteliers have not opened hotels anymore. It is also because of a very important aspect that I have already mentioned, and that is the staff. If it didn't work for some reasons with the old team, then I think it's impossible to create a completely new one these days. This is the biggest gold for us now.
You have around 180 employees. In the season it will probably be even more. How do you look for staff nowadays. Do you come up with something specific for them?
Due to the fact that we are big, we can provide service for both our guests and staff. Therefore, we have set up a number of benefit and performance programmes. Other benefits also stem from synergies within the CREDITAS group. For example, all employees have gold cards regardless of the position they are in. When the economic situation was still good, we also offered subsidised interest-bearing accounts and mortgages.
We offer accommodation to people who take on higher positions and are not from Vary. We also try to be a modern hotel at the same time, so all employees at higher positions are fully equipped with Apple devices as one of the benefits. Then there are classic things, such as that our employees have access to a laundry room, free food, etc. Thanks to that, we were able to keep the whole team during the crisis and gave them security and stability
You managed to keep the employees during the COVID, which many businesses in the horeca segment failed to do. It must have been really challenging both financially and mentally. How did you survive?
An anomaly occurred when the whole world stopped on March 17, 2020, and everything was shut down. We shut down, too. It was suddenly dark and cold here and all the colleagues were at home. The right question arose: "What will we do?" Of course, you need to maintain a certain amount of optimism and not get depressed. We had to anticipate a bit and reassure our colleagues that we would survive in the same way that we have survived those 320 years. At that time that we celebrated the anniversary of the founding of the hotel. But in this it was really difficult and in terms of the financial side of things – thanks to the CREDITAS group, we were able to control the situation and did not have to use external resources.
This means that today as a hotel you are financially self-sufficient and profitable, so to speak?
We will see at the end of the year.
You've made many changes you've talked about before. A lot has changed here in those four years. What has changed in the last year since you reopened after the hard COVID?
In the last year, we have completed all the reconstructions we had planned. We are now preparing for the next stages of reconstruction. Specifically, it is, for example, the reconstruction of a large part of rooms throughout the entire hotel. In the facilities, we are also preparing a large change of kitchen, which is really abnormally large here. In hotel management, I have not seen one that would be so large. We are also preparing parking facilities here, which we want to complete for our guests so that the comfort offered is complete.
Will you need funding from the owner for these investments? How does development work in the Pupp Hotel?
We try to plan everything in terms of cash flow so that we are self-sufficient and so that we can finance it. Of course, we can't start doing everything at once. We have it under plan. Let's hope that after the COVID crisis nothing similar will emerge again and that there will be no other factors that will affect us. But we are in a period when war is taking place not far from us.
Let me go back to the clientele. You had the advantage of gradually diluting the Russian clientele with other guests. Who is a typical visitor of the Grandhotel Pupp today?
For the last four years, we have defined what Pupp is. We have succeeded by changing the identity, brand and services we provide. It will then find its clientele on its own. Today, we have mostly Czech and German clients, and I must say that it is really almost fifty to fifty. Not only have we expanded our clientele, we have also increased hotel traffic by almost 80 percent compared to the period before 2018. As a hotel, you can't tell which clientele you want or don't want. Any guest can stay at us.
Are they typically Germans or Czechs from big cities who come here to recover, or are you already trying to attract regional clients? In the streets I see mainly senior citizens and families with children. Is this the typical sociodemographic group?
The spectrum of our visitors is really wide. We wanted people aged 30 plus to look for us, and we succeeded. One of the dominant features of the hotel is the Ceremonial Hall, which is unique and which will never be created again. It is from the end of the 19th century, when all these buildings were built, and every month we hold events there that attracts guests from the region. This weekend, for example, we are organising a food festival here, where representatives of selected restaurants from all over the Czech Republic will come and cook various world cuisines here in front of Pupp.
When there was no film festival in 2020, we said we would like to maintain the continuity of film. The idea was that since multiplexes where you sit and watch a movie are all around nowadays, it would be nice to have a cinema café in Pupp. We set it up in the Ceremonial Hall. At the head of the hall there was a large screen, but further layout was cabaret-like. There was also a bar in one section, so clients could get a drink and watch a movie.
This year, after the festival, we will be organising our third year, and iconic films by our Hollywood star guests have been selected. For example, Pirates of the Caribbean with Johnny Depp, a James Bond movie No Time to Die with Daniel Craig, Basic Instinct with Sharon Stone and more.
Do these activities attract regional visitors?
Yes, based on the last two years we can observe that half of the spectators in the hall were from our guests and the other half were from the regions.
When one walks through Pupp, one sees a lot of Czech art. It's really riddled with Czech design and products here, and you even have Hašlerky mints in the lobby at the entrance. Is it a systematic approach, or do you yourself support Czech business and Czech ingenuity?
Definitely, I believe it is necessary to help each other with Czech brands. Another thing is that this is our concept and it helps us to be able to define ourselves and be clearly legible for our guest in who we are. Starting with the entrance, where the guests can see vases from Moser, or then at the reception works by Zdeněk Lhotský.
But we cooperate also with other artists. Let me mention, for example, Michal Gabriel in the art of sculpture, but there are also, for example, photographs of Tono Stano. Guests have Manufaktura cosmetic products in their rooms. We have Czech cuisine, but also Czech confectionery. Our founder was a confectioner, which is a little known fact, but paradoxically we have the same history as the Sacher Hotel in Vienna. We also have our Pupp cake here.
Do clients notice this concept when they give you feedback and write reviews?
I have to say that we monitor feedback a lot, because based on it you can also determine the priorities that need to be focused on. Our hotel has 36,000 square meters, so we perceive the views of our guests and determine the priorities based on them. Of course, something can be done easily and quickly, some things are of a longer-term nature. In my opinion, listening to clients is the basis of success.
In an interview, you said in this context that when you work in this type of business, you must have empathy. Would you consider yourself a person who is sensitive to these things?
Absolutely, one must be sensitive and at the same time cannot think that one knows everything. We are here for the people.This business is a guest service, and we have to listen to know how to step up the service and make it better.
I noticed that you have a culture and respect built here, the processes are set up, people address you "director" and respect you. Do you tend to enter into all the processes that are in the hotel?
I like to have quality people around me. There are a lot of us here and without my team it really can't be done. So I have a number of colleagues here who each take care of their own section, but at the same time I try to make everything work smoothly. That's why I try to keep the limits.
Do you take all those things home or on holiday, or are you able to leave it and switch to another setting the moment you leave this building?
This never happens. That's not possible. There are really so many perceptions and information to let it go.
The war ended the Russian era in Karlovy Vary. Hotels have changed the clientele. No one wants apartments at the old prices. What can the town do to make Karlovy Vary, and therefore you, prosper?
Last year, the town entered a new estate on the UNESCO World Heritage List, so I think it would be good to make some use of it and set up marketing properly. But, at the same time, to avoid Vary from becoming what we could observe in Český Krumlov before the COVID. We definitely wouldn't like that.
I'm interested in the development of the town itself. You probably go to the town hall and talk to the local representatives. What do you tell them?
To take care of the town. And if they decide to build something new, to make sure that the intervention is well communicated and designed. The built-up area along the Teplá river is at its maximum, so nothing completely new will be built there and what we already have there should be maintained with due care.
You will probably have a longer-term idea of which way this building and this business should take. What are your ambitions for this hotel?
I want Pupp to continue to be the icon that people associate with it. We want to further expand awareness of the brand because it is unique to us and there are few such significant hotels in the world. We also want to be proud that we did a good job in the short period of time in the long history of the hotel.
I would also like to ask about the sustainability of the hotel. Many people in the field are currently dealing with energy performance. Your hotel is huge. Are you dealing with this problem too?
Of course, we are. There will never be a self-service check-in kiosk in Pupp. Guests will always be welcomed by a receptionist, so in this respect we keep a traditional line from which we will never deviate. We keep the sustainable concept in the ever-increasing electronic communication, and if we ever use paper , it is paper that is defined directly for us and came with the manual when rebranding the hotel three years ago and comes from sustainable forests.
Over the last two and a half years, horizontal pipes, heat exchangers have been replaced and the control of these distributions has been digitised. It's a big topic for us. We want our technicians to be able to control the entire hotel, whether it's lights, heat or music from a single tablet and, if necessary, from anywhere. A lot of people and companies worked together on this and now the project has been handed over.
You deal with costs in connection with high energies. They must have grown dramatically for you, like for anyone else. Do you possibly reflect this in the prices of stays?
We are constantly trying to balance and monitor this, but the market is very turbulent. It's sometimes really unbelievable what's going on right now. Let's hope it's just a temporary swing and it'll settle again. We try to absorb some costs, but we have to gradually reflect something in the prices.
Do you have time to follow trends in your business, travel and look somewhere where they come up with something new that can inspire you?
I try sending myself and my colleagues to see how they do it elsewhere. But we don't like to be inspired by copying something. We stick to our own concept.
Can you think of anything that stuck in your memory in this context?
Yes, I can. It was at the legendary Hotel Le Bristol in Paris. They also have a long history and to this day they use keys instead of the classic room cards we all know today. That's brilliant. They are not so conservative in everything, but in this respect they still maintain the traditional historical line.
This text was published in the economic daily E15 and on the E15.cz server