Interview with Václav Skoblík from the UCED group on the future of power engineering
Big changes will come in the field of power engineering. The planned reduction in fossil fuels means that an alternative to coal and natural gas will have to be found between 2030 and 2050. New technologies are therefore on the agenda. The UCED energy group also works on them, it is part of the CREDITAS investment group. One of the solutions is the so-called virtual power plants. Not just about them we talked with the director of the New Energy Division of UCED - Václav Skoblík.
Recently, the UCED group has been focusing on Energy 4.0. In what exactly?
I must say that Czech companies are interested in these new trends. Our smart energy solutions are used in large industrial areas, such as Vítkovice in Ostrava, Sigma in Hranice or Přerov Engineering Plant. This year we are planning to complete the revitalization of the distribution infrastructure in Kopřivnice. This is not only about the industrial park in the Tatra area, but also the area that is developed by the town of Kopřivnice.
Large power plants are slowly disappearing from energetics, how will electricity supplies be solved during peak periods?
The share of fossil fuels in total electricity production in the Czech Republic was 52 percent in 2020, the share of conventional lignite power plants 40 percent. However, the old units will be phased out and more and more electricity will be generated by local sources aggregated into virtual power plants. These are one of our new solutions that will manage the requirements to increase or decrease the power supplied to the distribution system in the following years.
What exactly is a virtual power plant?
The term "power plant" is clear - one imagines a nuclear or coal-fired power plant. Some people may think that the word "virtual" does not belong in energy. But that's not true. Classic sources must be replaced by something. It is clear that new large resources will have to emerge. But there are also decentralized sources - power plants, which are much smaller and close to the point of consumption. There are many such localities, which is why there are and, most importantly, will be a large number of these small power plants. This includes cogeneration units that produce electricity and heat. Furthermore, photovoltaic power plants, biogas stations and many other production sources. They interconnect into one unit through secure IT solutions.
What is their power?
Power is from tens of kilowatts to megawatts. When a small power plant has a power of half a megawatt, ten of them can manage five megawatts, for example, and a hundred smaller power plants can have a power of around 100 megawatts. This can replace a conventional power plant. It is also a trend supported by the European Union and all-European standards are beginning to apply in our country. It is part of the so-called 3D: decentralization, digitization and decarbonisation. Thanks to smart aggregation, it is possible to interconnect several localities and create one power plant. The specificity of a virtual power plant is that it engages not only electricity factories but also appliances. There are devices that enable you to interrupt or start consumption.
Where did flexibility-based devices first appear?
The concept of a virtual power plant is not a completely new part of energetics. This is a principle that began to be applied in the USA. It gradually reached Europe, where many companies are already taking advantage of locally distributed flexibility aggregation.
How does a virtual power plant work?
The concept is clear. We will combine electricity factories and appliances. However, it is of course complicated to put the individual sources together so that they really work like a large power plant and, if necessary, can replace the failure of one source with another. This requires a relatively robust IT system, which must be secured against attacks from outside. Each source that is part of a virtual power plant must have an industrial computer - let's call it a smart box - which is connected via firewalls and other security mechanisms to a single control panel that instructs each box when to start or stop the plant or appliance. It does this smartly so that it can supply electricity reliably with the right combination in the operation of individual industrial computers and sources. Data are sent from individual data computers located at the device to the control panel, where they are evaluated using smart algorithms. Simply put - an industrial computer monitors the current consumption and production of that device. It informs the control panel via secure communication and thanks to that it knows whether or not the device is available - whether it is flexible at the moment or not.
Are the terms of virtual power plant and flexibility the same?
It is nearly the same. Flexibility means the ability of a power plant or appliance to change online consumption or production over time. The fact that the source is flexible is a condition for its inclusion in a virtual power plant.

Why should companies go into flexibility?
Let's take the example of a developer company that has some real estate. These are a great example of the use of flexibility. I see two reasons here. The first is that the developer meets the legislative requirements. And the second is that the solution can be monetized.
Explain that to me.
Today, every developer faces requirements that the newly built property meet strict environmental requirements. The standards are such that they cannot achieve that without local electricity and often also heat factories. Local production reduces the building's electricity consumption, reduces the building's requirements for energy inputs, and thus meets the condition imposed by energy legislation. The creation of a property, for example, without photovoltaics on the roof is therefore almost unrealistic today. This is one of the reasons why cogeneration units are being built in locations where there is a greater heat supply. And the second reason is the aforementioned monetization. Flexibility helps the operation of the entire system and the building owner gains a share in selling flexibility in the market.
Where can flexibility be used? The simplest it is probably with power plants.
It is true. For cogeneration units, it is simple. The heat production by the cogeneration unit is started or switched off and the heat production is then taken over by a gas boiler. For example, with photovoltaics it is not so interesting in the Czech Republic today. In Western Europe, but also in Australia, the opposite is true. It is in Australia that Elon Musk (American businessman, engineer and philanthropist, he founded SpaceX and co-founded Tesla, which he now runs as CEO, editorial note), has a photovoltaic-based power plant with battery storage with perhaps 30,000 "involved" households sharing electricity produced. It is quite easy to use in industrial plants, where there are, for example, large pumps or belt conveyors, which move the material from one place to another. The advantage of production and industrial resources is that there is quite large power per unit. As the whole solution with an added industrial computer is still quite expensive for smaller entities. Technology is advancing, but it is still valid that the greater the source of flexibility, the better.
What about flexibility at UCED?
We are completing our own virtual power plant. We are planning to connect cogeneration units and biogas plants into it. We will gradually add other resources - production and consumption sources.
Revolution 4.0 is progressing well. Where will the trend of virtual power plants be in five years?
The current development of wholesale prices and their sharp increase show that the potential for the construction of decentralized resources is great. This means that the number of flexible sources will also increase. Trends are quite clear and technology is improving. Soon you will have a smart pump or electric boiler in your home. With these devices, you also do not care if they "burn" electricity or heat water at two in the morning or at five in the afternoon. Here, too, thanks to the industrial computer, a smart algorithm ensures that the boiler operates economically. The basic units of virtual power plants will continue to become smaller.
I can probably imagine that there will be some mobile application, similar to the one I control a set top box at the TV or a camera at the door. On the same principle, I will control a smart boiler and thus control my home virtual power plant.
Yes, it is probable and Tesla in Australia is an example. However, quite an interesting source of flexibility is also e-mobility, which uses mobile applications as standard. Whether we like it or not, the number of electric cars will increase. If you have an electric car in the garage, you don't care when it will charge. In addition, electric vehicle stations now enable a two-way flow of electricity. Theoretically, a car battery can serve as a source of energy that someone will consume. Of course, there are a lot of "buts". But the trend is clear. For example, we are preparing our own charging stations with the UCED logo. We already have several models of cooperation ready for our customers. As with our other solutions, we always choose the best solution for the given place and client. We will not use our customers' electric cars as "factories" of electricity. We will certainly find other ways to use our products and our virtual power plant.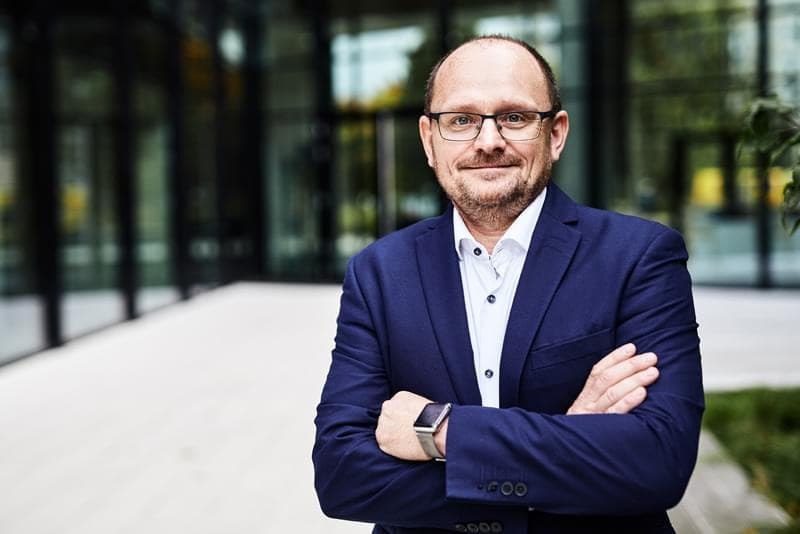 Václav Skoblík is the director of the New Energy Division in the UCED Group. He has held management positions in an international energy corporation. During his 25 years of experience in the operational business, he has gained experience in leading a number of areas, such as electricity trading, B2B sales and energy saving projects and services.
About UCED
UCED is one of the largest electricity distributors in the Czech Republic. Distribution systems supply energy to more than 6,000 regular customers, including industrial companies, logistics centres, office buildings, but also residential areas. The company wants to double the number of its customers in the following years. UCED is working intensively on its own solution, which adapts to the challenges of Energy 4.0. UCED is part of the CREDITAS investment group, which focuses primarily on long-term investments in conservative sectors. The main pillars of the group's business are financial services, real estate, rental housing, energy and healthcare.