Jinonice Courtyard advances to the finals of the 2023 Building of the Year competition
The successful renovation of the cultural monument, which was carried out in close cooperation with conservationists, transformed the unsightly and dilapidated premises into a beautiful, modern dwelling with a unique atmosphere. Thanks to this, Jinonice Courtyard (Jinonický dvůr) of the developer CREDITAS Real Estate advanced to the finals of the 2023 Building of the Year competition.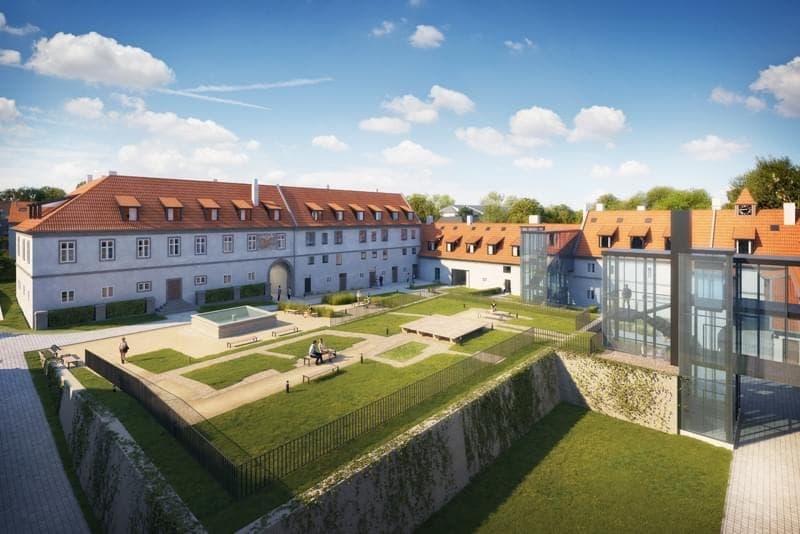 The main organiser of the competition with more than thirty years of tradition is the Foundation for the Development of Architecture and Construction, which is also its sponsor together with the Ministry of Industry and Trade of the Czech Republic, the Czech Chamber of Authorized Engineers and Technicians in Construction and the Association of Construction Entrepreneurs in the Czech Republic. The buildings are evaluated by a professional jury and a panel of experts on the basis of a personal visit and inspection.
This year, a record 110 projects from all over the Czech Republic entered the competition. In addition to Jinonice Courtyard, the reconstruction of the historical building of the former slaughterhouse for the purposes of the Plato Gallery in Ostrava, the reconstruction of the former textile factory Rezidence OÁZA and ROSA in Liberec or the construction works at the Scientific Library in Olomouc have also reached the final stage. The award ceremony will take place on 24 Friday November 2023 at the Rudolfinum in Prague.
Jinonice Courtyard, which was owned by the prominent Schwarzenberg family, served as a farmstead from its foundation in the 17th century. A brewery was later added to it. Sometimes nobility slept here. Its halcyon days ended after 1945 with nationalisation, and the building fell into disrepair over the ensuing decades. It was only revitalised by a complete and meticulous renovation, which took place between 2020 and 2023.
CREDITAS Real Estate worked closely with the conservationists on the project. The discovery of a medieval fortress from the 11th century was a great surprise for all involved. After a thorough archaeological survey, the entire fortress was preserved. The project was subsequently modified so that the remains of the fortress would be preserved for future generations and the reconstruction could continue. It was also possible to preserve the original Baroque and Classicist elements – the supporting structures, ceilings and vaults, the Baroque portal, the tower with a clockface and a historic clockwork, the sundial and the historic fountain.
The reconstruction of Jinonice Courtyard has resulted in a modern and unique residence in a unique historical complex, which offers 51 residential units with layouts from 2+kk to 4+kk. Thanks to its long history and careful reconstruction, it stands out from typical residential construction and represents exceptional housing for demanding clients who appreciate the atmosphere of castle living and the unique genius loci of the place.
Do you like Jinonice Courtyard? Vote for it in the public award.