Vladimír Hořejší: The merger with Max banka will take place next year
According to its Chairman, Mr. Vladimír Hořejší, the convergence of Banka CREDITAS with Max banka will be faster. Because of this, we will have to postpone the implementation of several news. Still, customers will see some of them this year. For example, one of the banks is about to introduce a new mobile app, while the other is going to expand its investment options.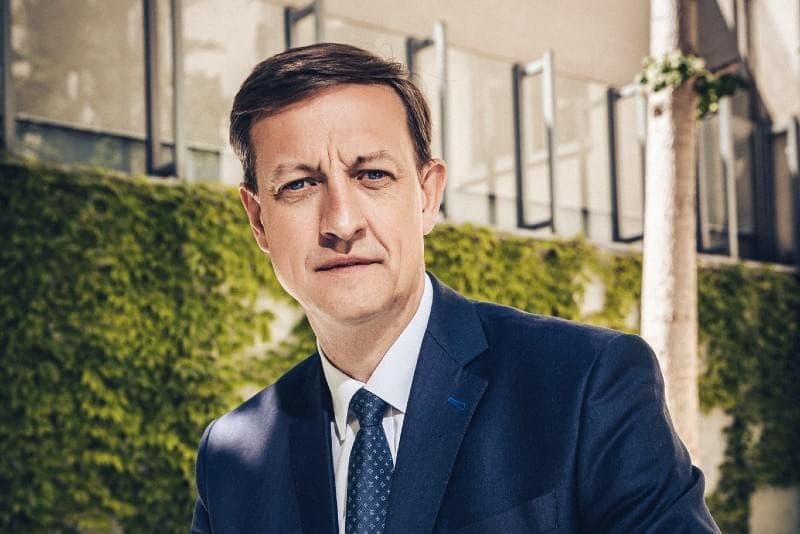 Since the last September, the Banka CREDITAS bought Expobank and subsequently renamed it to Max bankq, you have planned to merge them by 2025. How does it look like now?
It is true that we do want to merge the two banks. And we have decided to do this as soon as possible. If everything goes well, we would like to do this during the second half of next year. We have been preparing all the details, yet we are not able to tell you a firm date yet. This depends on the outcome of the analysis of the merger project, which will then be submitted to the Czech National Bank for approval. This is a complex legal and organisational process including informing clients two months in advance.
What was the reason why you decided to speed up the connection?
Our analysis showed that it is better to merge the banks first and then develop their products. Originally, we wanted to do it the other way around and develop some retail products in the Max banka separaterly.
Does that mean you will have to slow down or postpone any innovations you have planned in both banks?
This process will not affect the innovation plan at Banka CREDITAS, in any way. At Max banka, we have discontinued or put on hold some new activities, such as offering new consumer loans. Nevertheless, the process has not affected the major planned investment and innovation in the Max banka - namely the transition to the new version of the Flexcube IT system - in any way. It occurred during the first weekend in July, when we had to shut down the internet banking for an extended period of time. This has been a real breakthrough. The launch of the Flexcube system in the Max Bank is also a crucial step for the future development of Banka CREDITAS.
How does this relate to the development of the Banka CREDITAS?
The new version of the Flexcube system is about to become the heart of the IT systems, also Banka CREDITAS will use after the merger of the two banks. In the meantime, we want to develop new products and services on the new system at the Max banka, such as new mobile and internet banking and a new solution for the branch network management. The Max Bank clients will have the opportunity to see some improvements by the end of this year, such as a mobile application (there is no such a service available to our customers, at the moment). CREDITAS clients will only be provided with the new mobile and internet banking after the merger of the two banks.
You mentioned that you have been working on a new branch management on the new Max banka system. But the Max banka only has one branch. Will its clients be able to use the CREDITAS branch network?
This will not be possible until the merger with Bank Creditas.
You mentioned that Banka CREDITAS' innovation plans will not be hampered by the merger with the Max Bank. How about the CREDITAS' involvement in the upcoming mobile number payments, which are expected to be launched in the Czech Republic this year?
We are certainly not going to postpone this and want to be one of the first banks offering payments by number. Similarly, we already know that we will offer clients instant payments in euros within the eurozone, next year.
Anything new for CREDITAS clients this year?
We are going to launch a new application for the complete on-line investment management in the autumn. We have been also working on a further expansion of our investment fund offering. These are really popular among our clients; for example, the CREDITAS Real Estate Fund reported the appreciation of 12 percent p.a. last year, which has been the best result among real estate funds. In the first quarter, we added the CREDITAS Mixed Fund to our offer. This fund mostly focuses on bonds and shares of domestic companies. We are also going to offer other funds soon. We are going to launch new funds for qualified investors soon. These are the Retail Park Pardubice fund and the Alisol green fund, the underlying assets of which are photovoltaics.
About a year ago you told us that you would like Banka CREDITAS to start offering consumer loans this year. Has the situation with this plan changed by now?
Due to the change in the merger strategy of the two banks, we have decided not to start it this year. We are going to resume working on this project after the merger takes place.
Have you got any plans regarding changes in the CREDITAS branch network? I mean, the number of branches or the range of teller services you now operate at all branches?
Of course, we have been monitoring the capacity of individual branches, and we have implemented partial transfers of some less efficient branches to other locations. But this is does not mean we have changed our strategy. We plan to maintain roughly the current number of branches. As far as teller services are concerned, we want to maintain them in all branches because our clients required this service at the moment.
The Banka CREDITAS has been profiling itself as a saving bank. How about the development of interest rates on your savings and term accounts?
Our bank wants to continue to offer our clients above-average appreciation on these products. As far as interest rates on savings and time deposits in the overall market are concerned, I am convinced that we can expect their decline soon. When this will happen depends on the monetary policy of the Czech National Bank. According to financial market expectations, we expect some ČNB rates decline this year. As for me, I personally expect it to be more likely the first quarter of 2024.
Have you been considering the possibility of decreasing deposit rates even before the CNB lowers rates?
We certainly won't do that with savings accounts. As for time deposits, the expected CNB rate cut has already been partly reflected in interest rates.
How successful have been your mortgages and in particular the foreign currency mortgages for people commuting abroad you started to offer last year?
In general, our mortgages have been performing well above expectations, even though we entered the market relatively recently. The market has undergone a big downturn this year. Nevertheless, we still believe we will meet the plan of about four billion crowns. We have been also satisfied with foreign currency mortgages.
On 1 July, the Czech National Bank relaxed the mortgage regulations. Have you seen any demand recovery?
This is basically quite a new development, so we still have to wait how this affects the demand for new mortgages. In general, however, we perceive that the real estate market has been slowly reviving. This fact has been confirmed by the amount of new mortgages in the Czech Republic in the period last three months.
What is you opinion on the idea of offering multi-generational mortgages?
We, at the Banka CREDITAS, do not have any definite opinion on this yet. We will wait for decisions of CNB, legislators and the Czech Banking Association. However, we will certainly not be among the first banks to introduce such a product. I don't personally find the possibility of passing on mortgage payments to the next generation a very good idea.
Within the consolidation package, the option should be opened that people, who invest in mutual funds, stocks or save in fixed deposits as a form of saving money for their pensions, could also qualify for tax deductions. Just like people who invest their money in pension funds. Are you going to offer any of the products characterized by the Ministry of Finance as long-term investment products to your clients?
We don't plan to do that at the moment. The main reason why is that the entire government package is still heading to Parliament. Only after it will have passed it will be possible to start working on an offer.
The government package, along with other changes in building savings, suggests opening the building savings market to regular banks. Nevertheless, it has changed by now, as the Finance Ministry suggests that this is to be removed from the bill submitted to the Parliament discussions. Does that bother you?
No, it does not. We wouldn't even try anyway. We believe that building savings is an outdated product in its current form and other banks are able to offer clients competitive products that are often more beneficial for them.
Are you going to start offering a DCC blocking service at CREDITAS, i.e. a service that usually offers customers a disadvantageous exchange rate when paying or withdrawing abroad? DCC blocking has been introduced by a number of banks with Expobank, i.e. the current Max Bank being one of the first ones.
This is one of the services that we will definitely not come up with before the merger with the Max banka. Also the information provided by the Czech Banking Association indicates that DCC blockage has one major disadvantage. When you set up this blockage, there are places where you will not be able to pay because of it. A lot of clients don't understand why this happened and complain to their banks. We are only likely to introduce the DCC blockage as soon as the public becomes more familiar with this service.
Do you plan to make the conditions for SMS confirmation more strict, i.e. charge for it or abolish it, as some banks have already done?
No, confirmation SMS will remain in our offer free of charge.
From the beginning, CREDITAS has only been issuing Mastercard payment cards to its clients. How about introducing competing Visa cards, as some other banks have recently decided to do?
We do not plan or intend to do this. At the moment, it makes no sense to us to offer clients cards from other providers in addition to Mastercard. It´s turn of Mastercard's competitors to convince us about their offer. We haven´t received any such offer yet.
Do you consider the possibility of starting to offer cards from both companies? Some banks do that; they usually offer Visa credit cards and Mastercard debit cards...
We at the Banka CREDITAS only intend to issue debit cards in the future. We are not planning to launch credit cards; the credit card market in the Czech Republic has been shrinking in the long term any way.
And we do not even intend to issue Visa debit cards alongside Mastercard debit cards; we do not intend to offer both brands. Would this be beneficial for the clients and the bank? In the past, there were separate payment terminals for accepting Mastercard, Visa or American Express cards - and not every merchant had them all. But today's terminals can accept all these cards, so people usually don't care which brand they use to pay.
There are also certain licensing costs associated with issuing cards. So, it doesn't make sense to offer both Mastercard and Visa cards in our portfolio . Indeed, this trend has also become obvious in the big banks.
Last year you suggested that the Banka CREDITAS wanted to enter Slovak market this year, but it hasn't happened yet. Why?
We have been very busy with the Max banka acquisition, so we didn´t have time for this. It's all about priorities. However, we would still like to be present in a eurozone country in the future.
A few days ago, Banka CREDITAS announced that Eva Collardová has replaced you in the position of the CEO. But you remain the Chairman of the Board. The separation of these functions is unusual in banks.
The Banka CREDITAS has been growing quite dynamically and we have got a number of subsidiaries, such as the Max Bank, Ekorent and Creditas Investment Company. Currently, I would like to focus primarily on the strategic and business development of the bank and its subsidiaries. Eva Collardová will focus on bank management and day-to-day operations. There are definitely more banks with this kind of setting. For example, J&T also has separated the CEO and Chairman of the Board positions.
Yet, a woman in the management of a banking institution is quite unusual in the Czech Republic. Until now, they have only been members of the board of directors, and there have been singificantly less of them compared to men.
That's right. In the CREDITAS Group, we have two banks managed by female directors. Eva Collardová is the CEO of Bank CREDITAS and Ivana Pícková is the Chairman of the Board and CEO of the Max banka. They are both very capable, we don't care whether our managers are women or men.


The interview was published on the server penize.cz. Author: Olga Skalková.